Staff Bios
Rector – The Rev. Robert Cooke


Robert describes himself as "Husband, father, priest, believer, thinker, doubter, post modern pilgrim." Robert has been a part of the St. Mark's ministry team since 2005. He started has the part-time youth minister and then in 2010 he was ordained a priest and joined the staff full-time. He was inducted as Rector in 2015. Robert has a Master of Theological Studies (M.T.S.) from Queen's College and is an adjunct faculty there as instructor and chaplain. Robert has also ministered on the campus of Memorial University as the Anglican chaplain for four years and has been part Diocesan youth ministry through committees, synods, and leadership camps. Community involvement is very important to Robert and he is active through groups like the breakfast program at Virginia Park Elementary School and on the board of Habitat for Humanity NL. He also has a blog where he shares his thoughts on life, faith, religion, politics and other topics that are best left untouched in mixed company. Most importantly, he and his saintly wife Lorie (yes, the woman should be canonized) have been married 17 years and have two incredible daughters (he's not being biased, they are incredible), Victoria, aged 18, and Hailey, aged 15. You can connect with Robert in any or all of the following ways:
Phone: 709 726 3213
Text: 709 743 7804
Email: rcooke@stmarksanglican.ca
http://www.facebook.com/robertncooke
http://www.twitter.com/RobertNCooke
http://neounorthodoxy.wordpress.com
Associate – The Rev. Mark Nichols

Father Mark has served the Church as a parish priest for 10 years. He first served in the Parish of Battle Harbour and then the Parish of St. Peter (Upper Gullies). Prior to his ordained ministry, he served in the Canadian Forces for 20 years. He and his wife Darlene have two children and three grandchildren.
Priest – The Rev. Dr. Alex Faseruk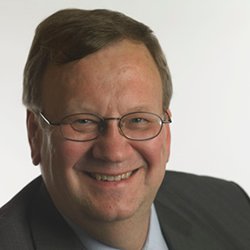 The Rev. Dr. Alex Faseruk has been a member of the congregation of St. Mark's since 1990. He was ordained a deacon in 1998 and called to the priesthood in 2009. In his secular occupation, he has been Professor of Business Administration at Memorial University since 1981 and acted in the capacity of Provost of Queen's College since January 2014. Rev. Alex has served on many diocesan and national church committees and organizations, including the Board of Directors of the Anglican Foundation of Canada where he is Chair of the Finance Committee.
Lay Leaders
Rector's Warden – John Tucker
People's Warden – Kim Petley
Staff
Choir Director – Rosalind Bartlett
Organist – Rhonda Wicks
Office Manager – Tara Hutchings
Caretaker – Frank Fogwill

Vestry Members
Rector's Warden – John Tucker
People's Warden – Kim Petley
Treasurer - Lynn Zurel
Secretary - Allison Billard

Rev. Robert Cooke
Father Mark Nichols
Joan Butler
Cal Smith
Wendy Howie
Rick Jacobs
Martha Shinkle
Ernestine Worley
Leah Paranavitana
Richard Janzen
Stephen Mercer